Klaavuntie 11
Puotila, 00910 Helsinki
Available for renting

8.4.2024


Estimated time of completion

1.8.2024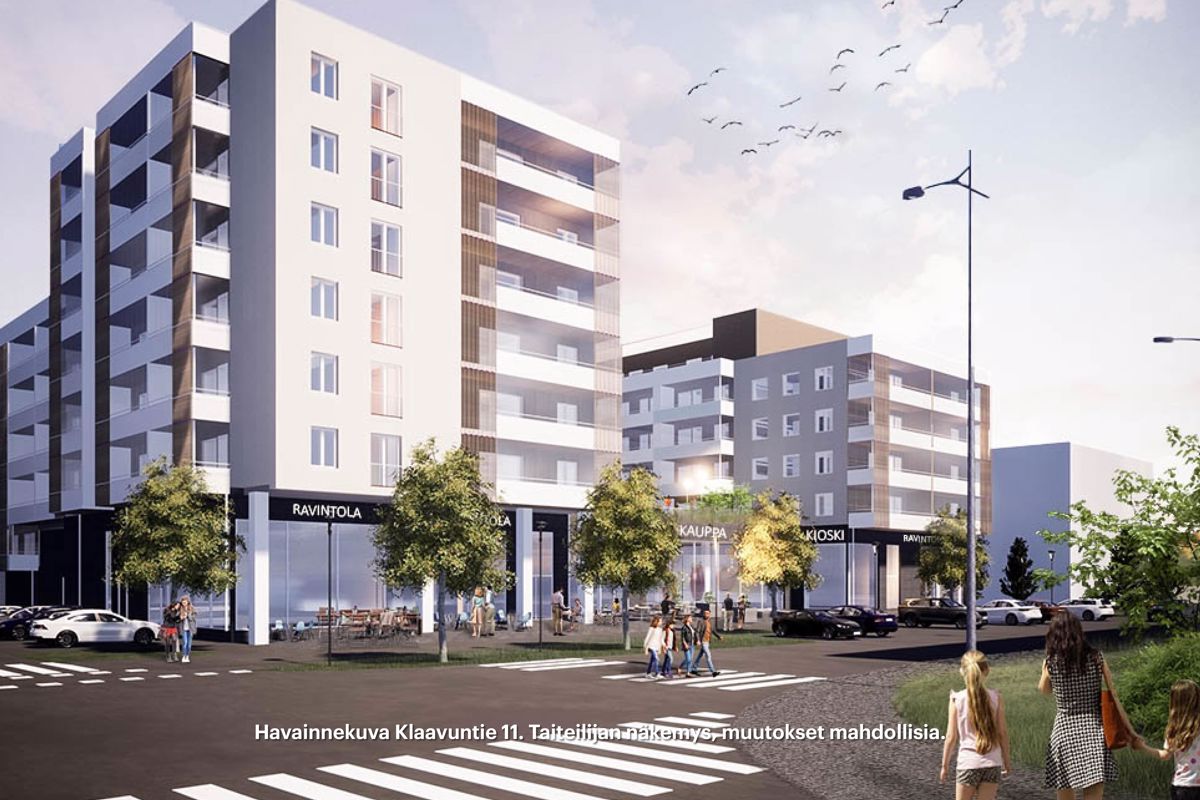 Apartment building

Estimated time of completion

 1.8.2024, 


Available for renting

 8.4.2024

1 bedroom + k

51

pcs

41—54,5 m²

2 bedrooms + k

12

pcs

57,5—69 m²

3 bedrooms + k

5

pcs

70,5—81 m²
By clicking on the service icon below the map, you can see where the services are located on the map. Information is based on data provided by Profinder. Distances to services are measured on the map using straight line distances.
Comfortable rental homes in Helsinki
Helsinki is a beautiful and lively residential city. Modern Helsinki, the capital of Finland, plays a key role in Finland's business and economy, which is why there are many jobs in Helsinki. Helsinki is an international, open and secure European capital with a good location on the Baltic Sea.
Helsinki has been awarded the World Design Capital Award in 2012 and UNESCO's City of Design in 2014. Around the world, Helsinki is known for its innovation, high-tech achievements, seaworthiness, architecture, cleanliness and security. The Cathedral, the Market Square and Suomenlinna are some of the city's most famous sights.
Sea and nature
In Helsinki, the sea is everywhere, and the outdoor islands are open to every citizen. The islands are easily accessible by ferries and the sea beaches are at the guests' disposal. Nature is also close to downtown, and the 1000-hectare green park stretches from Töölönlahti to northern Helsinki. Each residential area in Helsinki has its own outdoor areas, so the natural ambience of the city is maintained throughout the summer and winter.
Good public transport and excellent services
Helsinki is a good place to live as the city offers its residents well-functioning public transport and good services that are easily accessible from all over Helsinki. For example, children's day care, schools and health centres are close to everyone.
Even if your own home is located further from the centre of Helsinki, the train, bus, metro or tram can be reached quickly. Urban planning has also invested in light traffic routes, so many Helsinki residents make their commute by bike.
Available rental apartments in Helsinki
From the selection of available rental apartments in Helsinki everyone can find a suitable home. Apartment living is a Helsinki-style way of living, but it is also possible to live in suburban houses in the suburbs. If you want to live right in the centre of Helsinki, you will often have fewer living quarters than the more remote ones. Helsinki's Lumo rental apartments are located around the city, and there are available rental apartments for single people, couples and families.
Helsinki has many new development areas, but there is also more construction in existing residential areas. Your Lumo rental home in Helsinki can be located in an old 50's traditional stone house, a modern new apartment building or anywhere in between.
There are over 150 Lumo houses and thousands of Lumo rental apartments in Helsinki, so everyone can surely find a home that suits their lifestyle. You can find the available Lumo rental apartments in Helsinki in our web store.
Downtown Lumo Rentals
There are several Lumo rental apartments in the centre of Helsinki. For example, Punavuori, Töölö and Kallio are the most traditional residential areas in Helsinki. Each of them has its own atmosphere that is unique to the place. Kamppi is a service and transport hub located at the heart of central Helsinki.
Pasila is located a few minutes by train from the city centre, and is also a popular residential area for those who want to be near the city centre.
Coastal rental accommodation in Helsinki
Helsinki has many beautiful residential areas in the immediate vicinity of the sea. Kalasatama, Jätkäsaari and Hernesaari are one of the newest housing projects in Helsinki, where there are already several comfortable Lumo rental apartments. In addition to its maritime location, Kalasatama's, Jätkäsaari's and Hernesaari's trump cards are in the immediate vicinity of Helsinki city centre. Sompasaari is another developing residential area right by the sea and near the centre.
Right next to the Helsinki market place is Katajanokka, another charming area surrounded by water. The traditional Lauttasaari Island just south of Helsinki is also a popular residential area, and the nearby Lehtisaari is also a beautiful green place to live near water. You also get to enjoy the sea in Munkkiniemi.
Cozy rental accommodation by the metro line in eastern Helsinki
Vuosaari, the largest residential area in Helsinki, as well as Rastila, Kontula, Itäkeskus, Herttoniemi, Myllypuro and Mellunkylä are located along the metro line in eastern Helsinki. Vuosaari is home to perhaps the most beautiful and sandy and large Aurinkolahti beach in Helsinki, which has the atmosphere of southern Europe.
Other residential areas in eastern Helsinki are for example Roihuvuori, Vartiokylä, Vesala and Kurkimäki. All of these properties in Eastern Helsinki offer Lumo rentals of various sizes in a comfortable environment with good transport links and services.
Green suburbs in central and northern Helsinki
Central and northern Helsinki are attracted by their beautiful parks and good outdoor areas. In addition to the Central Park, the outdoor areas of Pirkkola, Paloheinä and Tali, among other things, provide a wonderful setting for leisure activities for their residents. In central Helsinki, for example, Etelä-Haaga, Pohjois-Haaga, Kannelmäki, Konala and Oulunkylä offer many comfortable Lumo rental homes. There are studios and family flats available.
Popular residential areas in northern Helsinki include Malmi, Tapanila, Tapaninkylä, Tapulikaupunki and Suutarila. The Lumo rental homes along the train track in these areas are popular: not only are the surroundings comfortable, but the transportation to the south as well as to the north is so good.
Lumo services and customer benefits
Lumo services and customer benefits
Deposit €0, pets are allowed and many more customer benefits.
Deposit €0, pets are allowed and many more customer benefits.
Read more >