Ruukkupolku 14
Myyrmäki, 01600 Vantaa
Available for renting

1.11.2022


Estimated time of completion

1.2.2023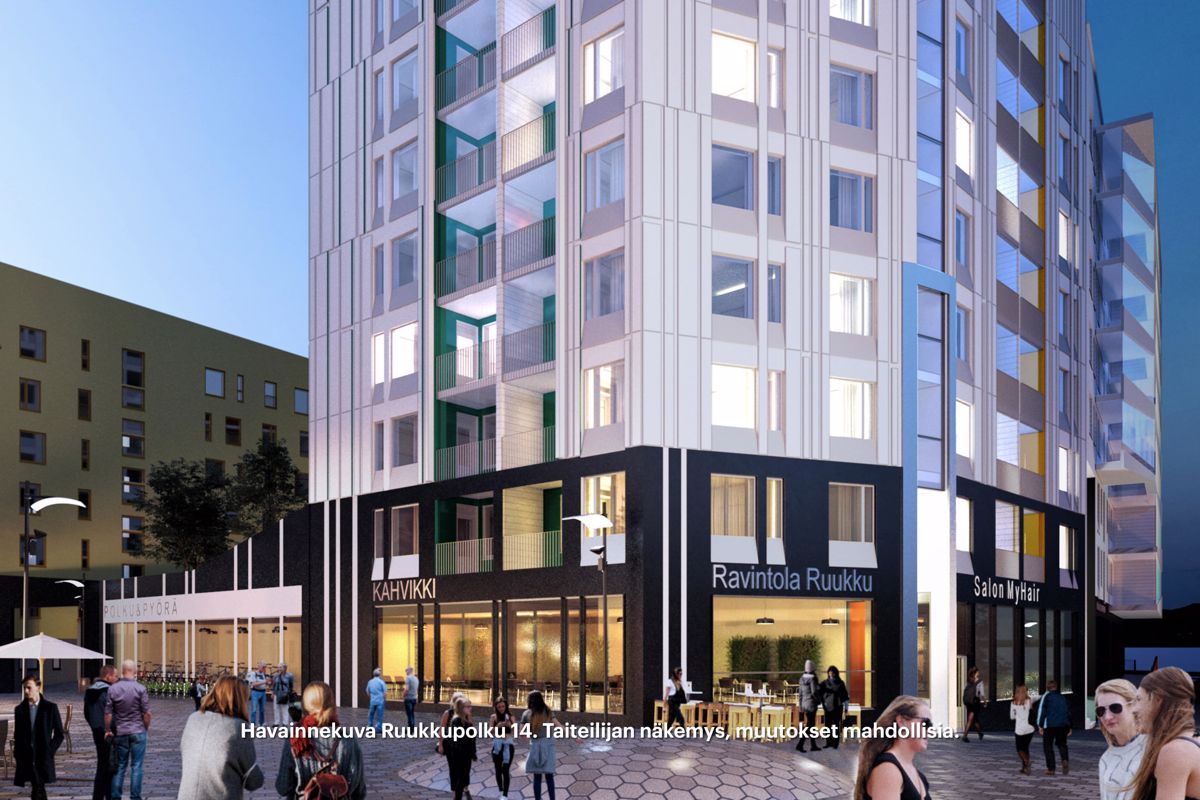 Apartment building

Estimated time of completion

 1.2.2023, 


Available for renting

 1.11.2022

1 bedroom + k

27

pcs

42,5—45,5 m²

2 bedrooms + k

28

pcs

63—65 m²
Information is based on data provided by Profinder. Distances to services are measured on the map using straight line distances.
Myyrmäki
Myyrmäki is a growing residential area in western Vantaa. The area offers diverse services, colourful street art as well as good opportunities for enjoying the outdoors.
There are three shopping centres in Myyrmäki, with the popular Myyrmanni being the best-known among them. There are many opportunities for exercise and outdoor activities in the Myyrmäki sports park, and the local residents also get to enjoy the activities offered by Cultural House Martinus and the Vantaa Art Museum Artsi. There are several great Lumo rental apartments in Myyrmäki that bring you close to the vibrant local culture.
Rental apartments in Myyrmäki with convenient connections
The area is easily accessible by both public transport and private car. Commuter trains take you from Myyrmäki to the centre of Helsinki in less than half an hour, while the Helsinki Airport is only about 15 minutes away. The area is also served by a number of bus routes and the trunk bus line 560 that takes you all the way to eastern Helsinki. Find your new Lumo home in Myyrmäki
Vantaa is a well-connected city. Located next to Helsinki, it is an integral part of the metropolitan area. Vantaa is best known for the airport, which can now be accessed conveniently by train. Other well-known sites in Vantaa include Heureka, the Finnish Science Centre, and the developing Aviapolis neighbourhood. The Vantaa river flows through several neighbourhoods, and there are nice outdoor tracks on its banks.
Living in Vantaa
Vantaa does not have one city centre, but the city comprises tens of neighbourhoods that have their own centres. The neighbourhoods differ greatly in terms of their atmosphere and size, which means that Vantaa has something for everyone. There are both densely populated areas in local centres for those who prefer a more urban setting and peaceful environments amidst nature a bit further away from the centres.
Lumo rental apartment in Vantaa
Versatile Vantaa is an excellent place to live. The area of Vantaa is large, and the city is popular among families with children. Vantaa is global and local at the same time. The airport makes Vantaa global, but local, Finnish nature is strongly present everywhere in the city. The airport and its surroundings are an important employment hub in Vantaa, with companies in the fields of aviation, logistics and other sectors. This makes rental apartments near the airport extremely popular.
Rental living in Aviapolis near the airport
The neighbourhoods of Pakkala, Tammisto and Veromies are part of the greater Aviapolis area. There a many jobs and rental apartments in the area, including fully new apartments. The atmosphere of Aviapolis is innovative, and the connections are excellent to all directions. Other neighbourhoods with Lumo rental apartments near Aviapolis include characteristic Kartanonkoski and cosy Leinelä.
Lumo apartment by the railway in Vantaa
Koivukylä is a traditional residential area with apartment buildings near nature and the main railway. The apartment buildings in Korso are also mainly located in a green environment, and the area is currently being developed into a more functional and comfortable district. Both Koivukylä and Korso offer local services and good transportation connections. The extensive green areas and beaches to the east of Koivukylä are important for the residents of both Koivukylä and Korso.
Living near nature in western Vantaa
Myyrmäki and Martinlaakso are the neighbourhoods with the most residents in Vantaa, and new apartments are still being constructed in both. Myyrmäki is the centre of western Vantaa, with extensive public and commercial services. The Lumo rental apartments in western Vantaa are popular both among single people and families. There are also some Lumo apartments in Varisto, a quiet neighbourhood that appeals particularly to families.
Pähkinärinne is a pleasant neighbourhood in western Vantaa. Apartment buildings are the prevalent housing type, but nature is still strongly present for the residents. Lake Lammaslampi is located near Pähkinärinne, offering a beautiful setting for a variety of outdoor activities.
Urban housing in and around Tikkurila
Tikkurila is one of the largest urban centres in Vantaa with excellent public transportation to all directions. The airport is within 10 minutes by train and the centre of Helsinki within 20 minutes. Tikkurila is also the administrative centre of Vantaa where the most of the city's services are located. Tikkurila has a cosy centre with a pedestrian street and a unique atmosphere, particularly in the summer. The history of Tikkurila dates back to the 16th century, when it was an important marketplace.
Tikkurila has a large population and several Lumo rental apartments. The area of Jokiniemi is located next to Tikkurila and offers more housing that is peaceful. Simonkylä and Simonpelto are also located near Tikkurila, at a comfortable distance. Malminiitty is a verdant neighbourhood between Simonkylä and Hiekkaharju.
Popular suburbs in eastern Vantaa
The best services in eastern Vantaa can be found in Hakunila, which also has many Lumo rental apartments. Itä-Hakkila and Länsimäki are other important residential areas. All of these neighbourhoods are quite densely constructed, but they have a country-style feel. There are apartments both in centres, near the services, and a bit further away. Lake Kuusijärvi and Sipoonkorpi national park are among the gems of eastern Vantaa, offering versatile opportunities of outdoor activities. Many companies operate in the area of Vaarala, including the family-friendly destination Fazer, and the area is an important source of employment.