New Lumo Homes in Kilo district
Nihtitorpankuja 1 A
Kilo, 02630 Espoo
Available for renting

9.10.2023


Estimated time of completion

1.2.2024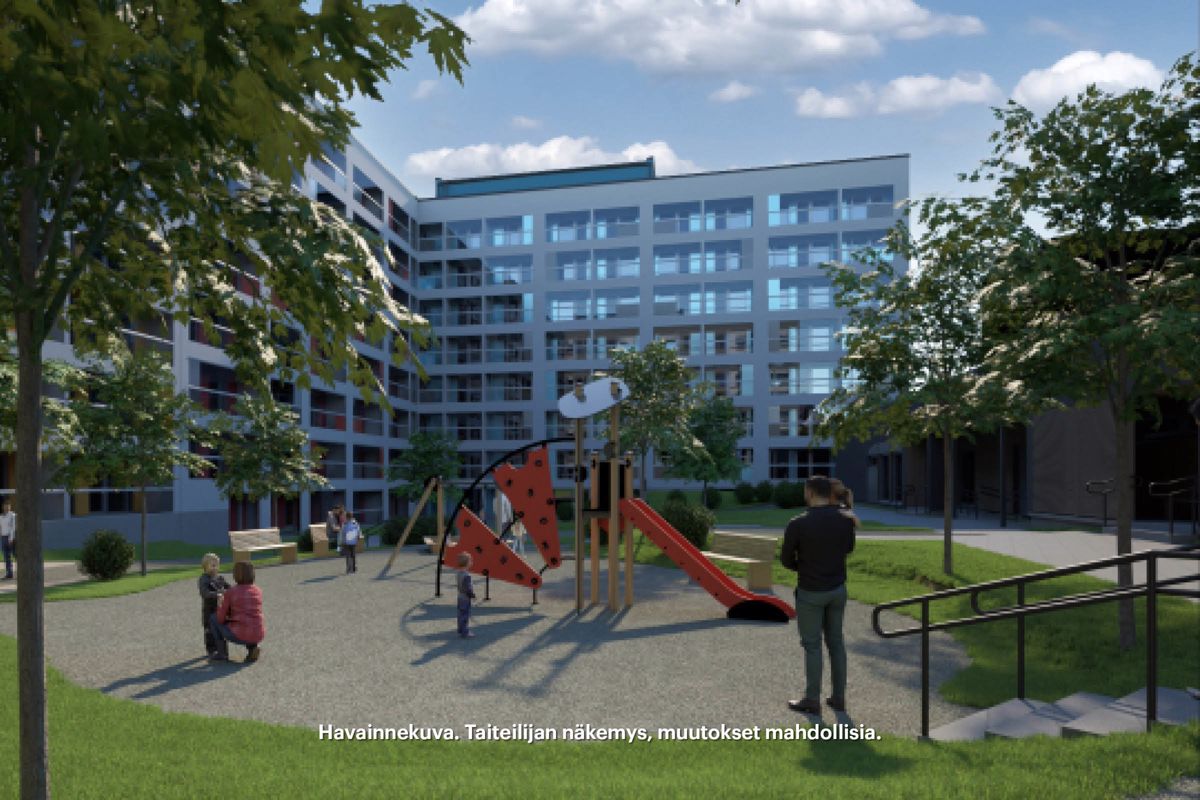 New Lumo homes will be completed in Espoo's Kilo district, in the neighbourhood of Nihtisilta, in early 2024. The building will offer compact city apartments for those who live alone, as well as one and two bedroom apartments for couples and families. The eight-storey single stairwell building will feature a lift and balcony access corridors.
Nihtitorpankuja 1 A will be part of a housing company consisting of four apartment buildings, of which Nihtitorpankuja 1 D is another new Lumo building. Building A will have a club room, a laundry with a drying room, and two shared saunas used by by the residents of building A and building D. There will also be two outbuildings in the courtyard with more saunas and shared facilities.
The apartments will feature timeless surface materials that vary slightly from one floor to the next. Three slightly different colour schemes are available. On floors 2, 5 and 8, the kitchens will have dark grey worktops, with black cabinet and drawer handles. The apartments on floors 3 and 6 will have light grey kitchens, while
the apartments on floors 1, 4 and 7 will feature white kitchens. All of the apartments will have glazed balconies.
Parking spaces for the housing company will be located in an adjacent parking facility. The parking spaces will be equipped with heating outlets and some with charging points for electric cars. The buildings' shared bicycle storage area will be located on the ground floor of the parking facility.
Nihtisilta is part of the district of Kilo, located at the junction of Turunväylä and Ring II. Kilo has a wide range of services, and there is a well-stocked supermarket just across the road. There are also many outdoor recreation opportunities in the area,
including Espoo Central Park a few kilometres away. A gym, indoor swimming pool and other sports facilities are located right next to the property. Golf enthusiasts will benefit from easy access to the nearby Tapiola Golf. Library and cultural services are also within easy reach.
The location also offers convenient transport links. Those who have a car can quickly reach the main roads. There are also good bus and train connections in several directions. The services of Sello shopping centre can be reached by public transport in 15
minutes, and the neighbouring Kauniainen and the Gran shopping centre are also just a few kilometres away. Trains from Kera railway station, which is located about one kilometre from the property, provide access to central Helsinki in 15 minutes. The local services in the area also include day-care centres,
comprehensive schools and an upper secondary school.
Included in the rent for these Lumo homes is a high-speed 100 Mbit/s internet connection, and pets are always welcome.
Apartment building

Estimated time of completion

 1.2.2024, 


Available for renting

 9.10.2023

Studios

52

pcs

27,5—31 m²

From

 665 €

1 bedroom + k

7

pcs

50 m²

From

 830 €

2 bedrooms + k

7

pcs

60—67 m²

From

 1210 €
By clicking on the service icon below the map, you can see where the services are located on the map. Information is based on data provided by Profinder. Distances to services are measured on the map using straight line distances.
Kilo
Kilo is a quiet and pleasant residential area, and the location is excellent. Located right next to Leppävaara, with a wide range of services and good transport connections, Kilo is like a quiet oasis next to the bustling Leppävaara.
Kilo has excellent transport connections: bus connections are good, and Kilo's local train station offers convenient access to Leppävaara in a few minutes and Helsinki in about 15 minutes. In addition, the nearby Leppävaara station offers extensive bus and train connections around the capital region. The Turku-Helsinki train also stops right next door at Leppävaara station.
Rent an apartment in Kilo in your own peace and quiet, close to services
Close to Kilo train station, you'll find cosy Lumo homes with a selection of bright and compact studios, two-bedroom apartments and three-bedroom apartments. The area has day-care centres, secondary and primary schools and a riding school. Kilo has plenty of green areas, peaceful parks, meadows and wooded jogging paths. The adjacent outdoor recreation areas offer a wide range of activities from jogging to horseback riding.
Within a few minutes by train or bus, you will also find all the versatile services of Leppävaara, such as the sports park, the outdoor swimming pool, the golf range and the Sello shopping centre, where you will find a wide range of cafés and restaurants, as well as almost a few hundred different shops.
Lumo has a wide range of rental apartments in Espoo. If you are interested in Kilo as an area, you should also check out the nearby Leppävaara rental apartments, Rastasmäki rental apartments and Karakallio rental apartments. Also, rental apartments in Suurpelto are worth looking into.
Espoo is a green city that offers great services and an excellent location. Espoo is located next to Helsinki, by the sea. The city is known as one of the primary business hubs in Finland: many large enterprises are headquartered in Espoo, and the Otaniemi campus is located in the city. In Espoo, technological advances meet green living amidst nature.
Espoo does not have one major centre, but several smaller city centres, which makes it unique as a city. Each city centre has its own fine characteristics that make it unique. Espoo has a diverse range of rental housing, including large family apartments available for rent.
The centres are connected by an efficient public transport network. The West Metro makes it easy to get to Helsinki from Espoo, and there are also convenient connections north of Espoo by train and bus. In addition to this, motorways run across Espoo in both directions.
Spacious housing surrounded by nature
Apartment buildings are the most prevalent type of housing in Espoo. However, the residential areas are not densely constructed, but spacious enough to allow room for breathing. Most of the residential areas in Espoo have great green areas and jogging tracks, all of which are accessible for the city's residents. The central park covers an area of as much as 900 hectares, and Nuuksio National Park is even larger.
In Espoo, you can live in an urban environment near the capital city, and reach the nearest forest to unwind in wilderness in a few minutes. Furthermore, Espoo has many lakes that give the city an exceptional atmosphere, particularly in the summer.
Lumo rental apartments in Espoo
Espoo has dozens of Lumo houses and thousands of Lumo rental apartments for all different lifestyles. Espoo has available rental apartments for single people, couples and families. Espoo's Lumo homes are located in different neighbourhoods throughout the city, and you can find your own home by the sea, in a quiet suburb or surrounded by services.
In our web store you will find a wide selection of available rental apartments in Espoo. The apartments are available to rent 24/7 and you decide which is the most suitable for you and when you want to move in.
A rental apartment along the west metro line
The west metro line connects several areas in Espoo to each other and of course to Helsinki. In Espoo there are metro stations in Matinkylä, Niittykumpu, Tapiola, Otaniemi and Keilaniemi.
Matinkylä is one of the largest city centres in Espoo. The best-known attraction in Matinkylä is the Iso Omena shopping centre with hundreds of shops and a wide range of services. Next to it there are the charming residential areas of Olari and Niittykumpu. Known as the garden city, Tapiola is a unique mix of urban architecture and green spaces with its walkable centre and many parks. Otaniemi is the home of many students and a lively place to live.
Modern housing in Espoo
Many of the Lumo rental apartments in Espoo are located in fairly new apartment buildings. For example, the residential area of Suurpelto is a modern and innovative area with an underground recycling system that spans the entire district.
Laaksolahti, on the other hand, has excellent outdoor tracks, and the Lumo apartments in this prestigious area are located in modern and functional apartment buildings. Newer Lumo rental apartments are also available in Vermonniitty and Kivenlahti.
Rental housing near services in the Leppävaara area
Leppävaara is located near the boundary between Helsinki and Espoo, and it is famous for its tower building. Leppävaara is a busy transportation hub with many jobs. Shopping centre Sello attracts visitors from near and far. The residential areas of Kilo, Karakallio and Vermonniitty are located near Leppävaara.
Urban living in the centre of Espoo
Espoon keskus is the most densely populated area in the centre of Espoo. It offers excellent services and fast connections into all directions. Examples of services in the area include the Entresse shopping centre, an indoor swimming pool, sports arena and library. Lumo rental apartments are located in elegant buildings near Entresse. Nuuksio National Park and its excellent outdoor services are also located near Espoon keskus.
Suvela, a residential area bordering Espoon keskus, is home to many Lumo rental apartments. Suvela has its own school and day care centres. The Lumo rental apartments in Tuomarila are located near nature, but also within a stone's throw of the services of Espoon keskus.
Rental housing near the sea and lakes
Espoo has plenty of coast line, so you get to enjoy sea views in many different residential areas.
Kivenlahti and Saunalahti are pleasant residential areas by the sea in western Espoo. Espoonlahti, Soukka and Tillinmäki are also nice areas nearby and close to the coast.
Haukilahti is a popular residential area more in the east. In Haukilahti you can enjoy jogs along the water, dips in the sea and charming beach cafes. Matinkylä and Nuottalahti with their beaches are also pleasant areas near the sea.
Peaceful suburban life in Espoo
In Espoo there are lots of peaceful residential areas where you can enjoy quiet streets while still being close to services.
Ymmersta is one of the most tranquil neighbourhoods in Espoo. It is located next to Kauniainen and has Lumo rental apartments of different sizes. The residential area of Karvasmäki near Kauniainen offers rental homes in single-family houses in a tranquil environment. Järvenperä and Nöykkiö are other peaceful areas.
Lumo services and customer benefits
Lumo services and customer benefits
Deposit €0, pets are allowed and many more customer benefits.
Deposit €0, pets are allowed and many more customer benefits.
Read more >