Brand new Lumo homes in an excellent location in Tillinmäki
Korkoontie 6
Tillinmäki, 02230 Espoo
Available for renting

17.1.2022


Estimated time of completion

1.5.2022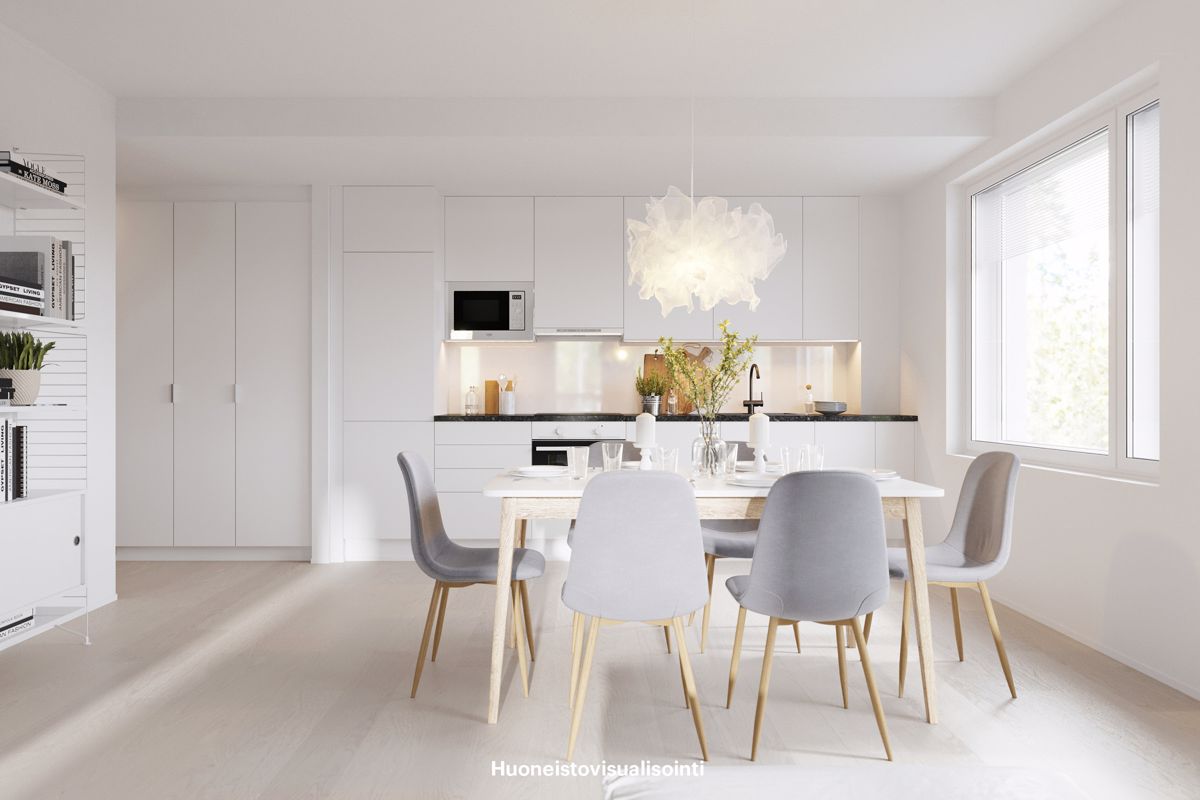 In the spring of 2022, new, comfortably sized buildings will be completed in the Tillinmäki area of Saunalahti, Espoo. The earthy colours of the facade beautifully imitate the shades of the surrounding landscape. Shops, schools and round-the-year outdoor recreational areas are within walking distance. The traffic connections are excellent for both cars and buses, and the new Kivenlahti metro station will open in the area in 2023. The housing company offers shared sauna facilities to residents.
The two buildings will have a total of 40 apartments with various floorplans and balconies. Some of the apartments feature an extra large balcony with partial glazing. The terraces have wooden flooring and the largest terrace spans 60 m2. The materials in the apartments were designed for lovers of a fresh, Scandinavian look, matching pure white with oak laminate floors and clay-grey bathroom tiles. Integrated appliances give the kitchen a sleek, elegant look. The apartments feature two slightly different styles of materials: one with cooler tones and the other with warmer hues.
These new buildings fulfill the requirements of modern living, both in terms of housing quality and the environment: the real estate electricity used to heat the sauna and light up the stairwells, common areas and the yard is carbon-neutral and hydropower-certified. The buildings are heated with carbon-neutral district heating. The energy and water consumption is monitored on a daily basis. The common areas of the buildings and the apartments, including balconies and terraces, are non-smoking areas.
The rent includes a fast, 100 Mbit/s broadband and, as always, these new Lumo homes welcome pets as well.
Apartment building

Estimated time of completion

 1.5.2022, 


Available for renting

 17.1.2022

1 room + k

7

pcs

23,5—32,5 m²

2 rooms + k

9

pcs

43,5—49,5 m²

3 rooms + k

21

pcs

55,5—68,5 m²

4 rooms + k

3

pcs

76,5—79 m²
Information is based on data provided by Profinder. Distances to services are measured on the map using straight line distances.
Espoo is a green city that offers great services and an excellent location. Espoo is located next to Helsinki, by the sea. The city is known as one of the primary business hubs in Finland: many large enterprises are headquartered in Espoo, and the Otaniemi campus is located in the city. In Espoo, technological advances meet green living amidst nature.
Espoo does not have one major centre, but several smaller city centres, which makes it unique as a city. Each city centre has its own fine characteristics that make it unique. Espoo has a diverse range of rental housing, including large family apartments available for rent.
The centres are connected by an efficient public transport network. The West Metro makes it easy to get to Helsinki from Espoo, and there are also convenient connections north of Espoo by train and bus. In addition to this, motorways run across Espoo in both directions.
Spacious housing surrounded by nature
Apartment buildings are the most prevalent type of housing in Espoo. However, the residential areas are not densely constructed, but spacious enough to allow room for breathing. Most of the residential areas in Espoo have great green areas and jogging tracks, all of which are accessible for the city's residents. The central park covers an area of as much as 900 hectares, and Nuuksio National Park is even larger. In Espoo, you can live in an urban environment near the capital city, and reach the nearest forest to unwind in wilderness in a few minutes.
Furthermore, Espoo has many lakes that give the city an exceptional atmosphere, particularly in the summer.
Lumo rental apartments in Espoo
There are different types of Lumo rental apartments in Espoo, including options for single people, couples and families. Lumo apartments are located across Espoo, in different neighbourhoods. There are several Lumo buildings built in the 2010s in Espoo, and new properties are continuously being built to add to the range of stylish and high-quality Lumo rental apartments in the city.
Modern housing in Espoo
Many of the Lumo rental apartments in Espoo are located in fairly new apartment buildings. For example, the residential area of Suurpelto, Espoo, is a modern and innovative area with an underground recycling system that spans the entire district. Laaksolahti, on the other hand, has excellent outdoor tracks, and the Lumo apartments in this prestigious area are located in modern and functional apartment buildings. Newer Lumo rental apartments are also available in Vermonniitty and Kivenlahti.
Rental housing near services in Leppävaara, Kilo and Karakallio
Leppävaara is located near the boundary between Helsinki and Espoo, and it is famous for its tower building. Leppävaara is a busy transportation hub with many jobs. Shopping centre Sello attracts visitors from near and far. Kilo and Karakallio are located near Leppävaara and Otaniemi.
A rental apartment in Matinkylä, at the end of the west metro line
Matinkylä is one of the largest city centres in Espoo. The West Metro connects Matinkylä with the district of Ruoholahti in Helsinki, which makes it attractive as a residential area. Thanks to the metro line, Matinkylä is a popular area among people who commute to Helsinki. The best-known attraction in Matinkylä is the Iso Omena shopping centre with hundreds of shops and a wide range of services.
Urban living in Espoon keskus, Suvela and Tuomarila
Espoon keskus is the most densely populated city centre in Espoo. It offers excellent services and fast connections into all directions. Examples of services in the area include the Entresse shopping centre, an indoor swimming pool, sports arena and library. Lumo rental apartments are located in elegant buildings near Entresse. Nuuksio National Park and its excellent outdoor services are also located near Espoon keskus.
Suvela, a residential area bordering Espoon keskus, is home to many Lumo rental apartments. Suvela has its own school and day care centres. The Lumo rental apartments in Tuomarila are located near nature, but also within a stone's throw of the services of Espoon keskus.
Rental housing near the sea and lakes
Kivenlahti is a pleasant residential area by the sea. The local plan of Kivenlahti was originally made by Alvar Aalto, and many of the Lumo rental apartments are located on a street that dates back to the plans of the famous architect. Lippajärvi is a comfortable residential area on the shore of lake Lippajärvi. It is particularly popular among families. Lumo rental apartments are located in a peaceful environment near the lake. There are also newer Lumo buildings in Kivenlahti.
Rental living in a single-family house in Matinkylä
In Matinkylä, Espoo, you can live in a cosy, rental single-family house. The districts has lots of green areas, and it is particularly popular among families.
Ymmersta is one of the most tranquil neighbourhoods in Espoo. It is located next to Kauniainen and has Lumo rental apartments of different sizes. The residential area of Karvasmäki near Kauniainen offers rental homes in single-family houses in a tranquil environment.