Renovated Lumo homes in popular Tuira are completing in two phases
Valtatie 44-46
Tuira, 90500 Oulu
Available for renting

15.11.2023


Estimated time of completion

30.4.2024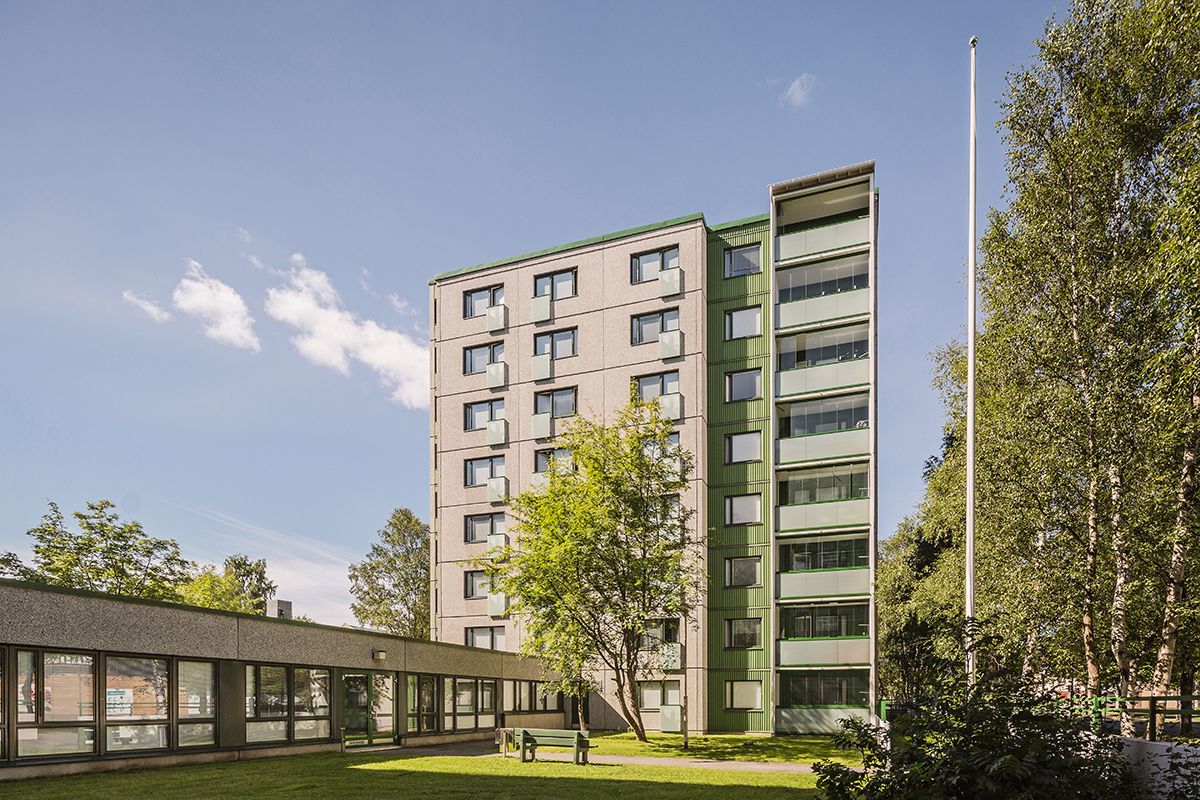 Originally built in 1980, this eight-storey building is still under a partial renovation. In the first phase of the renovation, 135 apartments were given a new look. The first phase was completed at the end of July 2023, and the remaining 61 apartments will be completed in spring 2024. The building contains 148 studio apartments and 48 one-bedroom apartments. The homes will be completely renewed with modern and timeless materials that are suitable for many interior styles.
The apartments completed in July are available for rent here. You can sign up for the pre-marketing list of apartments to be completed in spring 2024 here. Joining the list is highly recommended, as you get an email when the apartments are available for rent.
The residents can use the building sauna, laundry room, drying rooms, club space and gym. Also, there will be parking spaces and storage for rent.
Tuira is located north of Oulujoki, very close to the center of Oulu. The market square is only about 2 kilometers away on foot. Just across the street you can find a grocery store. There is also a movie theatre and a beach located nearby. The buses run frequently through this part of the town, so car is not a necessity. The routes for walking, running, and cycling are great.
The rent includes a 50 Mbit/s broadband connection. Pets are always welcome in Lumo homes!
Apartment building

Estimated time of completion

 30.4.2024, 


Available for renting

 15.11.2023

1 bedroom + k

16

pcs

48,5 m²
By clicking on the service icon below the map, you can see where the services are located on the map. Information is based on data provided by Profinder. Distances to services are measured on the map using straight line distances.
Tuira
Tuira is one of the largest districts in Oulu. It is a popular neighbourhood, thanks to its central location and active community. Tuira is like a town within a town.
Rental apartment with good connections, close to services
Tuira is located on the northern side of the Oulujoki river, in the immediate vicinity of the centre. Nearly all local bus lines run through Tuira. The level of services available in Tuira is excellent: there is a large hub of shops located on both sides of Merikoskenkatu. Länsi-Tuira has a health centre and the Tervaporvarinpuisto park with exercise equipment for people of all ages. Lumo has several beautiful and light rental apartments across Tuira.
Always something to do
Tuira offers many opportunities for outdoor activities. A jogging track goes around the park, turned into a cross-country skiing track in the winter. The Raatti indoor pool and Tuira beach are both within walking distance. Traditional cinema Star is located in eastern Tuira, on Kalliotie. The area has several day care centres, schools and an adult education centre maintained by the Vuolle Settlement.
Lumo has a wide selection of rental apartments in Oulu. If Tuira interests you as an area, you should also see nearby rental apartments in central Oulu as well as in Välivainio and Alppila.
The city of Oulu welcomes residents of all ages. Oulu – the oldest city in northern Finland – is famous for its industrial and technical expertise. It is also known as a university city and one of the most popular places to live in northern Finland.
With a population of more than 200,000, Oulu is a place where active people can find something to do all year round. The proximity of the sea keeps the climate surprisingly mild even during the winter.
A lush city with beautiful nature
Nature is strongly present everywhere in Oulu, and the city's location by the Bay of Bothnia, at the mouth of river Oulujoki, makes the nature in Oulu unique. The city takes good care of its parks, and green areas such as Hupisaari park or Hallituspuisto are great places to spend one's days off. There are plenty of ski trails to enjoy in the winter.
The Nallikari resort area and beach are a popular leisure spot among families. Another popular site in the summer is the island of Hailuoto, which has beautiful sand dunes. Varjakka in Oulunsalo and Koiteli offer excellent hiking, trekking and fishing grounds. In addition to the Oulu River, the city has a few lakes within its borders as well as the quaint Kaupunginoja stream that goes through the city centre and past an attractive park called Otto Karhin puisto. There are many islands off the river mouth.
Cultural city
Oulu is famous for the annual Oulu August Festival and several music festivals, which are held every winter. Oulu also has many museums, including Oulu Museum of Art, Turkansaari Open-Air Museum and the Old Liminka museum area. The city also has two theatres: Oulu City Theatre, Oulu Workers' Stage and several summer theatres.
Available rental apartments in Oulu
Oulu has a diverse selection of Lumo rental apartments. Whether you are a single person looking for a compact studio apartment or a family looking for a multi-bedroom apartment, Oulu's available rental apartments have homes to suit all walks of life.
Oulu has dozens of Lumo houses and a few thousand Lumo rental apartments all over the city. You can live in a cosy Lumo home either right in the city centre or in a quiet residential area a little further away, as there are plenty of options.
You can find available Lumo rental apartments in Oulu in our web store. When you find a home that suits your needs, you can rent it online right away. You can also contact our Lumo Home Centre, which will be happy to serve you.
Easy living in central Oulu, Myllytulli or Meritulli
The Oulu city centre offers housing in a maritime environment near extensive services. The Lumo rental apartments in the city centre are located within walking distance of pedestrian street Rotuaari. The area of Myllytulli is located less than a kilometre from the centre, which means residents in this area have convenient access to all the services. The Lumo rental apartments in Myllytulli are within walking or biking distance of the sea.
Meritulli is a prestigious area right next to the city centre. It is a prime example of urban living. The Lumo rental apartments in the area are close to the market square.
Tuira - like a town within a town
Tuira is located near the centre of Oulu, and it is like a town within a town. The Lumo homes in Tuira are close to excellent services, and the area also has local day-care centres and schools.
Toppila is a family-friendly residential area right next to Tuira. Toppila has its own essential services, and Oulu Technology Village is located nearby. Alppila is located some three kilometres from the centre of Oulu, to the north of Tuira. The area used to be occupied by small-scale industries, but nowadays, it is a green residential area with modern apartment buildings.
Northeast of Toppila lies Kaijonharju with several shops and basic services. The city centre is seven kilometres away — a distance that is easily covered by bus or by cycling along the new Baana bicycle path. The University of Oulu, part of the Oulu University of Applied Sciences, Technopolis and the shops of Linnanmaa are all nearby. There is also an indoor sports arena and an indoor skating rink here, and an indoor swimming pool will be built in the future.
Comfortable housing in southern Oulu
Kaukovainio and Hiironen are located a few kilometres south from the city centre. There are comfortable Lumo homes of various sizes in these area, located near local services and good connections. Kaukovainio has basic services, including a grocery store, day-care centre and comprehensive school, which also houses the local public library.
The Kaakkuri neighbourhood is located close to Kaukovainio, and it is one of the largest residential areas in Oulu, consisting mainly of apartment buildings. Kaakkuri has become popular, particularly among families, and the distance to Oulu city centre is about five kilometres.
Diverse residential areas outside the city centre
Heinäpää is a nice neighbourhood about a kilometre from the city centre. It has exceptional opportunities for leisure activities and outdoor recreation. Sports venues in Heinäpää include the popular sports centre, football fields and excellent outdoor trails. There are also local schools and day-care centres.
Etu-Lyötty is located less than one kilometre from the city centre, next to Heinäpää, at a convenient distance from the shopping centres of southern Oulu. Other residential areas with Lumo rental apartments in Oulu are Linnanmaa, Puolivälinkangas, Värttö, Peltola, Rajakylä and Välivainio. All of the apartments have excellent locations near services and good transportation connections.
Lumo rental apartments in Oulu in figures
In Oulu, the 5th largest city in Finland, there are 2341 Lumo rental apartments, ranging from studios to five-room homes. In Oulu, everything is within cycling distance, regardless of the season.
Lumo services and customer benefits
Lumo services and customer benefits
Deposit €0, pets are allowed and many more customer benefits.
Deposit €0, pets are allowed and many more customer benefits.
Read more >